The Official TOP1000 Usenet Servers page
TOP 1000 statistics (current / last month)
Current top1000 stats (generated on Saturday Dec 9 4:30 CET 2023)
Current contributors list (generated on Saturday Dec 9 4:30 CET 2023)
Current full stats (generated on Saturday Dec 9 4:30 CET 2023)

Please keep in mind that current statistics do not reflect anything regarding Usenet distribution. It only relies on the few servers that send their stats on a daily/weekly basis. It also can help sites wishing to check if their inpath' output has been received and processed.

Last month top1000 stats (generated on Wednesday Dec 6 4:30 CET 2023)
Last month contributors list (generated on Wednesday Dec 6 4:30 CET 2023)
Last month full stats (generated on Wednesday Dec 6 4:30 CET 2023)


Filtered statistics
(Attempt to generate an) accurate, clean, duplicates-free top1000 from last month or nightly computed.

Which allows me to have kindof a dynamic top ten (Wednesday Dec 6 4:30 CET 2023):


1 google.com 59.049068
2 highwinds-media.com 45.390084
3 feed.usenet.farm 29.383398
4 weretis.net 28.524348
5 blueworldhosting.com 24.211346
6 feeder1.feed.usenet.farm 23.334285
7 erje.net 20.948683
8 neodome.net 20.735997
9 giganews.com 20.262217
10 as286.net 14.193707

Figures are more talkative when graphed: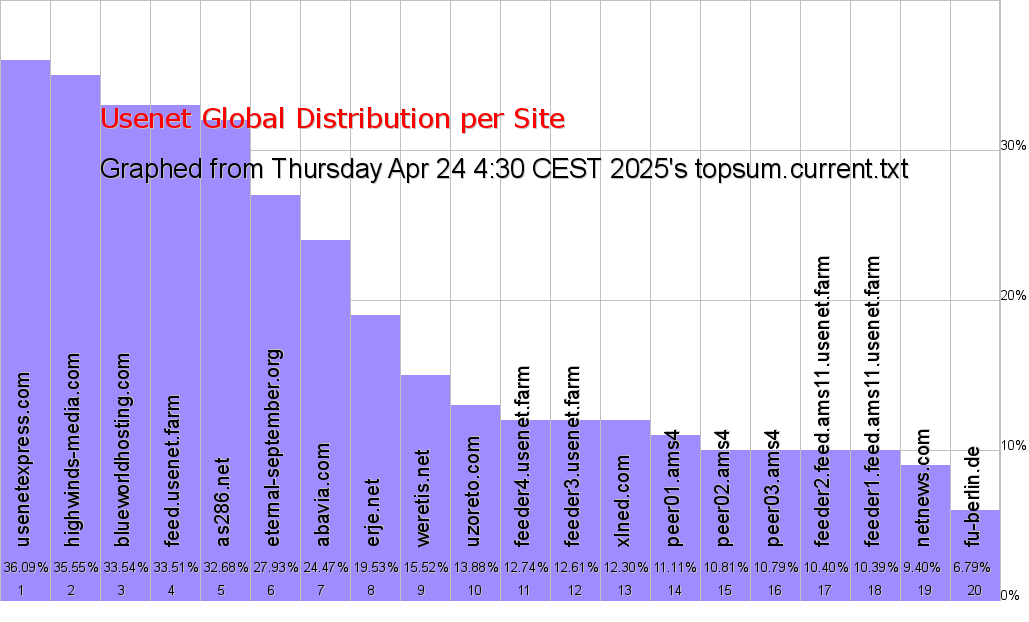 Previous months statistics
Statistics for year 2023
Statistics for year 2022
Statistics for year 2021
Statistics for year 2020
Statistics for year 2019
Statistics for year 2018
Statistics for year 2017
Statistics for year 2016
Statistics for year 2015
Statistics for year 2014
Statistics for year 2013
Statistics for year 2012
Statistics for year 2011
Statistics for year 2010
Statistics for year 2009
Statistics for year 2008
Statistics for year 2007
Statistics for year 2006
Statistics for year 2005
Statistics for year 2004
Statistics for year 2003
Statistics for year 2002
Statistics for year 2001
Statistics for year 2000
What's this TOP1000 thing ?
The "TOP 1000 Usenet servers" aims to reflect the logical behaviour of article flows inside Usenet. To achieve this, a number (350 as of 2006) of participants send me the statistics computed on their servers. These statistics list the number of articles that have been seen flown through their usenet servers, for each Usenet path, during the period between each stats run. Every night these stats are aggregated and the global server weights are made available on the website. Historically, it only occured once a month. Now that most Usenet feeds are realtime, we could probably find interesting figures in daily stats. It depends on how many sites send their stats.
How to participate ?
To participate, you will need a Usenet feeder to gather the path logs. INN and diablo are just fine for this. (XXX howtos to add). Once the path log is there, you're almost done: you will need the program ninpaths (XXX link), and the ability to send emails to the world wild net. Just set up a cron job to compute the stats every month, or even every day/week. Sending stats every day is an interesting option, because full feeds today mean big path logfiles, parsing and clearing them daily is often valuable. It also helps computing pertinent daily stats. To verify if the nightly computed stats seem relevant, just compare the number of current participants and last month's participants. If they do not differ much, you'll probably read relevant figures in the daily snapshot. Theorically, inpaths' outputs are gathered until the 5th of the next month for historic reasons. Now the daily stats are almost as pertinent.
The output of the (n)inpath program must be sent to top1000 (at) anthologeek.net. I highly recommend you to also send the email to your own email address (To:, Cc:, Bcc: ...) to check that everything works fine. There are always people sending bogus empty stats. This issue can probably be easily fixed, it often comes from bad log rotations. Please always check your stats for consistency.

Last month's top1000 stats are available through this link. Full stats through this one. People can now add something like this in their crontab:

0 3 * * 6 news fetch -qo- http://news.anthologeek.net/full.txt | head -n 10000 > /news/top1000/current


Stats are becoming to be pertinent, at this moment, I receive more than 200 inpaths output per month. Send yours to top1000 (at) anthologeek.net to help having more pertinent statistics. It is recommended to Cc: to yourself this mail, in order to check problems (empty output, ...).
Here is a sample of what inpaths output should look like.
TOP 1000's history
Original freenix' top1000 stats are not available on the Internet anymore.
Things that have changed since old good time's TOP1000:
The script currently drops Path entry that don't have any alphabetic character at all (eg: an IP address). It greatly improves the resources usage, and removes some junk entries.
The script displays now 3 decimals.
Contact
To send any comment or question, please write to Sameh Ghane < sameh (at) anthologeek (dot) net>.
TODO
Add INN and diablo inpaths set up howto.
Add a system to stop or minimize the effects of too many stats sent by one entity. (eg. one machine feeding two readers, readers' stats are sent).
Move everything to a database.
Some links
Cord Beerman has a page for an inpath+graphviz project. You'll find scripts and samples of the graphics generated using inpath output.